Not all women are ready to wear boots or heavy athletic shoes while hiking. Wearing boots and athletic shoes can make your feet sweaty, hot or even tired before you want to stop. Instead of choosing running shoes or boots that may not fit, or suit the terrain you are in, why not try a pair of hiking sandals? Hiking sandals for women with the perfect design for light hiking and exploring, giving your feet support and traction, but plenty of room to breathe. To choose the best sandals, you firstly need to consider 5 things to find the best hiking sandals. Besides, there are a few reviews of quality, affordable and durable hiking sandals for women to consider before your next shopping.
5 Things To Consider To Find The Best Hiking Sandals
1. Toe protection
If you plan to buy a sandal with some sort of toe protection, you should firstly consider the type of trails. Many trails have sticks, roots, rocks and other objects on the trail that can injury your toe or foot. Most hiking sandals offering the toe protection. However, if you intend to hike around on the beach or paved bicycle trails in woods, you can get away with open-toed sandals.
2. Treads
Like hiking boots, you should find a pair of hiking sandals with a sturdy tread. With Vibram sole, most hiking boots and sandals provides excellent grip even in wet conditions.
3. Arch support
Unlike fancy dress sandals or flip-flops, hiking sandals have the great arch support. Arch support will provide the protection and comfort you need on the trails. If you plan to climb the tough technical mountain, you would rather choose hiking boots with good ankle support and tread than hike in hiking sandals.
4. Fit
Fit is also one of the important factors when you decide to purchase any shoe. While hiking, your feet tend to swell. At that time, adjustable straps can be a life saver. Adjustable straps support your feet with more room as the temperatures start to drop.
5. Type of hiking
Hiking sandals have various elements. Therefore, these sandals are not with a heavy backpack as it can place pressure on your joints and even could damage your feet. Hiking sandals are prefect for tropical or mild climates on easy trails, around the campsite or with a small day backpack.
Hiking Sandals Reviews
Best Affordable Hiking Sandals
1. Keen Women Newport H2
Pros: Great arch support and comfort
Cons: Stitching on some of the models wear quickly
Toe: Close-toe guard
Features: Non-marking carbon rubber outsoles, single-pull lace nylon webbing/neoprene upper, EBA mid sore with the antimicrobial footbed.
2. Ahnu Women's Tilden V
Pro: Adjustable buckle strap system for a more custom fit
Cons: Heavier than other models
Toe: Closed toe
Features: Numentum Traverse Opened Toe Technology, mesh upper with webbed straps, EVA foam midsole.
Best Hiking Sandals For Women
1. Keen Whisper
Pros: Lightweight and comfortable
Cons: Arch support is limited
Toe: Closed toe
Features: Metatomical footbed design, bungee lace capture system, hydrophobic mesh lining
2. Merrell all about blaze sieve water shoe
Pros: Great for light hiking in wet climates
Cons: Designed more of a shoe than a sandal
Toe: Closed
Features: Lycra neoprene stretch collar, Unify midsole, Vibram outsole with 3 mm lug depth.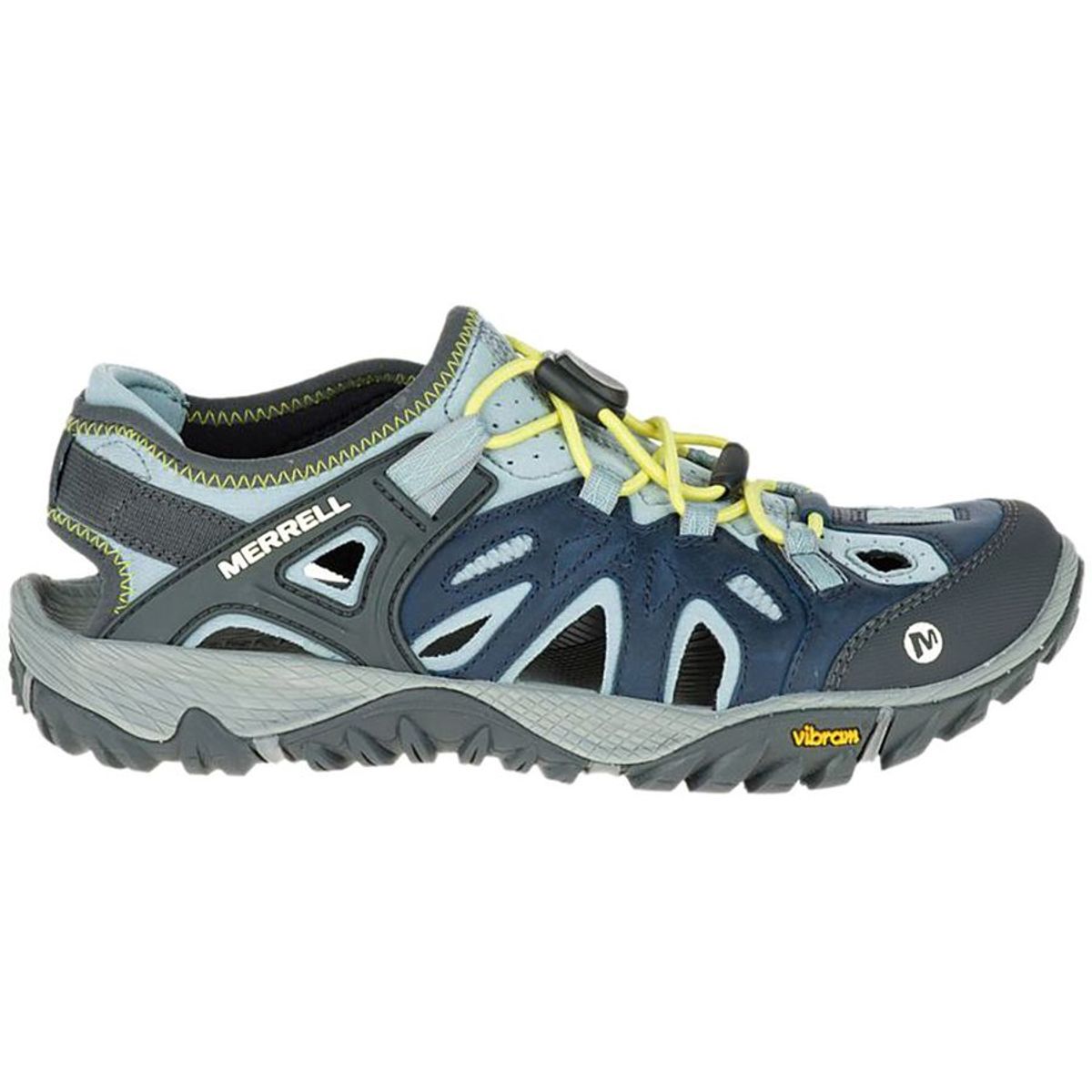 Best Open Toe Hiking Sandals
1. Chaco Women's ZX2 Vibram Yampa Unaweep
Pros: Excellent arch support and pronation control
Cons: Open toe leave toes exposed
Toe: Open
Features: BioCentric footbed, Vibram outsoles, infinitely adjustable polyester strapping system, lightweight polyurethane midsole.
2. Teva Terra FI 4
Pros: Adjustable fit and long lasting
Cons: Open toes leave toes exposed and not the best fit for big feet.
Toe: Open
Features: Spider Original rubber sole, Molded polyurethane midsole with Microban zinc-based antimicrobial treatment, Shock Pads heels, three –point adjustment straps.
Best All Around Hiking Sandals
1. Keen Arroyo 2
Pros: Grippy tread- great for hiking
Cons: Laces wear out quickly
Toe: Patented rubber toe cap
Features: Removable dual-density EVA footbed, one-pill drawcord laces, nylon mesh linings, non-marking carbon outsoles with deep lugs.
2. Teva Omnium
Pros: Adjustable ankle strap and comfortable
Cons: Does not have good arch support
Toe: Closed toe
Features: Sock-absorbing ShocPad heel, rubber sole, bungee lacing system with quick-release buckle, integrated toe protection.
Having comfortable shoes that will support you with taking your from the city to the wild. Whether you love hiking, fishing or swimming or just relaxing on the beach, a good pair of sandals will provide you with that comfort and still keep your feet protected. Besides, the quality sandals are durable, sturdy and flexible enough to allow free foot movement. On the contrary, poorly designed sandals or ill-fitting will lead to soreness and blisters. Therefore, it is important to choose sandals wisely and carefully.