With the combination of the freedom of walking barefoot and the protection of a sole, walking sandals are the great choice for the warmer days. Walking sandals have cemented themselves as a must-have item for trekkers. On the market, there so many different kinds of sandals. So, how do you know how to ensure you are not purchasing a dud one? Before going to the stores, you should make sure that you know how you can get the best walking sandals. This will not only support you through the summer days but look great and much more in the future. You should look at guides to find the best sandals for walking. Then you will explore the different types of sandals and which one is the best.
7 Things You Should Consider To Find The Best Walking Sandals
Terrain: Once you plan to purchase a new pair of sandals, you should consider the kind of terrain you will be wearing these shoes in. When you are at rest points, walking sandals are good alternatives to hiking boots because of its light terrain and shorter walks. Besides, walking sandals are perfect for beach and river walks. To some sandal wearers, they can walk with sandals for 10 miles when they become used to the sandals. Especially, the walking sandals can dry out a lot faster than closed in shoes. They are specially perfect for people who are predisposed to getting tinea and other fungal infections.
Weight: If you want to find an alternative to your hiking boots on long trips, you should consider how much weight and room will they take up in your pack? An open toed sandal may not provide more stability than a covered sandal. Yet, at double the weight, you should ask if choosing a closed toe is necessary.
Water: With possible fungal infections, your sandals have the best protection and should be waterproof. Moreover, constructed from rubber and synthetics, the sandals are your best bet for dealing with water. For activities in creeks, a rubber closed toe water sandal is a perfect choice. But, the rubber dries off instantly during the walk back to your car or campsite.
Blisters: Most sandals only interact with a small portion of your foot. The areas put under greater pressure than they would with covered shoes. This pressure and rubbing may lead to blisters. To cut this, you should look for outdoor sandals with wider straps. Also, buying sandals with leather straps can help once the leather soften over time. With sensitive feet, wearing sandals at home with socks on can help soften the straps. It means that this supports you with breaking you sandal.
Allow for swelling: It is important to remember feet swell throughout the day when purchasing a pair of walking sandals. In the late afternoon, your feet have expanded after being on them all day. So this is the best time to try on sandals. When choosing an open toed sandal for walking, you should care about at least a thumb width of space between the top of the toes and the end of the sandal. Moreover, this helps to keep any small stones or dust that may fling up on to the sandal away from the toes.
Support and Cushioning: Instead of fighting the walking sandal, your foot should be flexible to roll with every step you take. You will be sliding around with discomfort if a walking flip flop is too loose. A rigid sole may become an annoyance with every forward step. Besides, the best sandals provide the flexibility in the forefoot and help you avoid cheap walking shoes at all costs. Moreover, many walking sandals offer the amount of flexibility and support that come with many cross training shoes.
Trail Sandals: Trail sandals are perfect for long distance walking because of their natural ability handles advanced terrain. These sandals contain toe guards to avoid pressure on the toes or accumulating too much dirt on the path. Besides, the sole of an outdoor trail sandal is durable. It can cause discomfort if the expectation is to walk long distances. Thus, rugged options among Keen, Merrell or Teva are very good options.
The Types Of Walking Sandals
1. Closed style sandal
A closed toe will be the best walking sandal option if you are walking in an unsteady or rocky track. As you walk, these sandals prevent your foot from any moving too far forward. Also, they provide protection from any falling debris that you may encounter.
These outdoor sandals for men or women do not have the same flexibility as their open toe counterparts.
The soles with such rigid material are beneficial on longer hikes.
Closed toe is perfect for water based activity such as fly fishing. That's why a reputable pair is often referred to as water sandals. Closed toe sandals can take a considerable length of time to dry out so they are not as useful for the beach or activities involve swimming or wading. Thus, closed toe sports sandals are also a good choice for walking long distances.
2. 50/50 design
With the 50/50 design, many open sandals have some straps by the toe to prevent foot slippage. Yet, still with open slits so the feet can breathe. This helps keep your foot in place but will not protect the toes from the falling debris which cut, bruise or break delicate toe bones. It is wise to consider covered sport sandals if planning a small journey on rocky terrain.
As a fast slip-on outdoor sandal, open designs can be thrown into a backpack or tote. Walking flip flops are well suited for beach outings as they dry almost instantly. Yet, some do not provide support for the heel. Wearers receive blisters from the two straps running over the top of the foot. But, Keen and Teva have made some very impressive water sandals. This will give you long-lasting comfort without ruining the materials or causing blisters.
3. Open style sandal
Open toed sandals no longer need to be reserved for the annual family holiday or for hiking day trips. For many people, open toe walking sandals help with posture and orthopedic ailments. Unlike fashionable sandals, the majority of walking sandals come with arch support. This makes them the perfect summer choice.
A handful of stylish walking sandals gives the allure of cool and they provide hours of walking protection.
For decades, brands such as Teva design the best walking sandals for everyday use or travel. These sandals contour to the shape of your feet. For few years, they corporate with the top designers to create the good walking sandals. These sandals provide podiatric benefits and enhanced performance. Also, they match the current fashion trends.
The Top 5 Best Walking Sandals
1. Keen Newport H2 Walking Sandals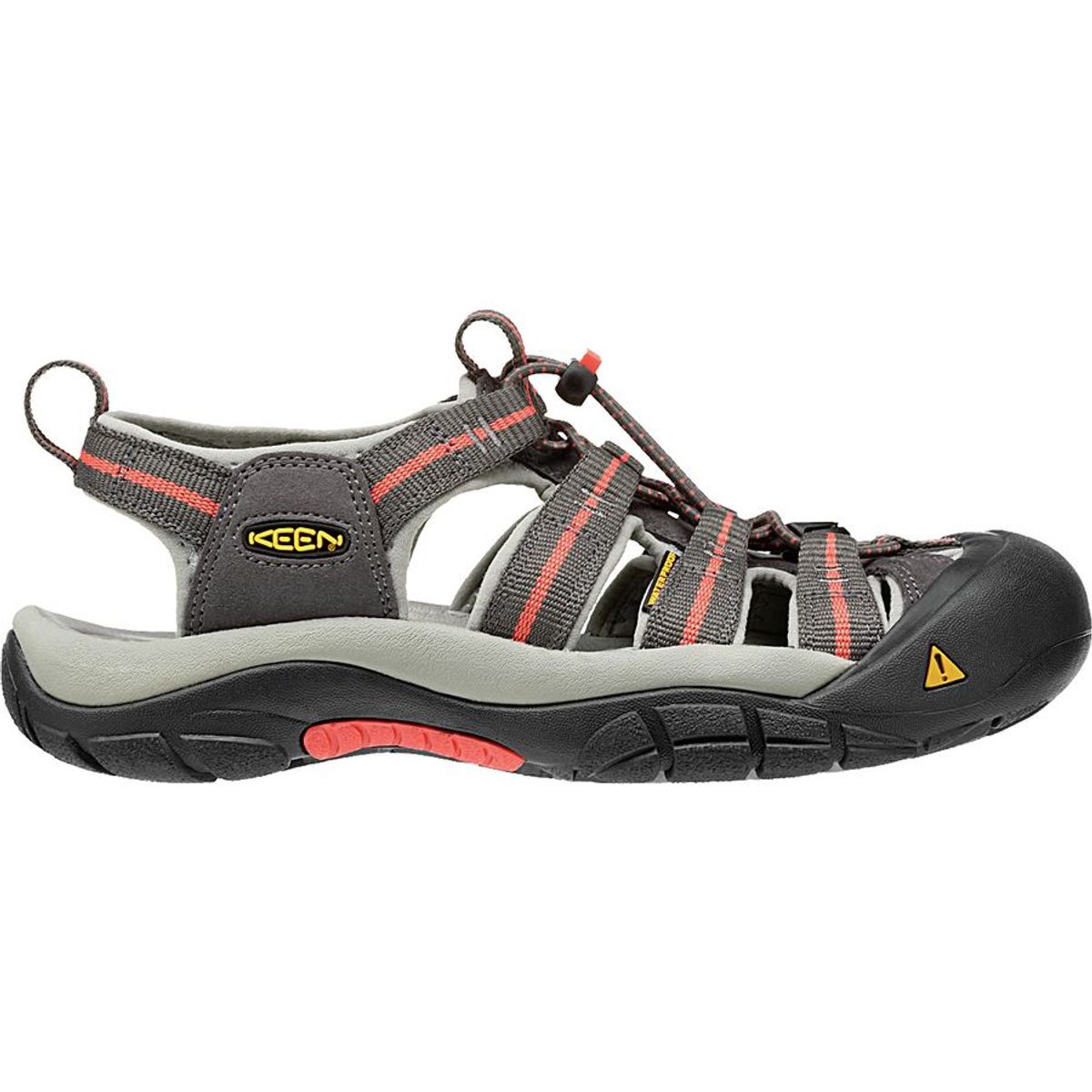 With outdoors-man in mind design, these Keen sandals are the great pair for a man who wants to walk through wet or dry trails. From the first look, you can say that the walking sandals can work like stripped-down boots. From their vented design to their bungee laces or to the patented Keen toe guard, these sandals blur the line between a hiking shoe and a sandal. And, this gives you solid traction and foot protection.
As water shoes, the Newports are perfect for water sports or just walking through cool mountain stream on the trail. The combination of the vented design and the anti-microbial treatment helps you prevent odor.
Like all Keen's water sandals, these Newports can be washed in your washing machine. If you want to purchase a walking sandal that can take you across town or across a stream with equal ease, this sandal is a perfect option. Moreover, they are the best sandals for walking hands down.
2. Teva Women's Tirra Athletic Sandals
If you want to be both feminine and tough out on the trail, the Tirra athletic sandal from Teva has you taken care of. With a woman's foot in mind design, the Tirra is a solid choice for rafting, sailing or as a pair of backup shoes around the campsite.
With the lug pattern, the sandal can keep water out. Besides, a neoprene lining helps the Tirra dry quickly. Furthermore, with the Teva's super tough Spider rubber outsole, you will be able to grip the ground and keep your footing in the wettest conditions.
With the Shoc Pad in the heel, you will get an amazing athletic sandal. The sandals not only stays on your foot through the toughest conditions, but they feel good to wear.
3. Teva Men's Hurricane XLT Walking Sandals
The Hurricane XLT is a good example of exactly what Teva can do for your feet. Although it looks simple enough, it is the little details that make this sandal worth your while.
The Durabrasion rubber outsole gives you enough grip on the ground without sticking you to it. Also, the heel with EVA foam cuts down on fatigue on your joints. Besides, the shank that holds the strapping system together is made of nylon. This supports the sandals with not cutting holes in the tops of your feet after all day wear on the trail.
4. Teva Women's Zirra Walking Sandals
The Teva Zirra is a minimalist's best friend. Its minimal strap setup set these sandals to your feet comfortably and easily.
With Teva's Shoc Pad in the insole and the super-sticky Spider rubber compound, you can grip anything you put your foot on and feel comfortable doing it.
5. Keen Women's Whisper Walking Sandals
The Whisper can work with whatever you find on the trail. Through the designed drain channels, these sandals slide on easily. They stay on snug with the bungee cord lace-up system, drain water, sand or mud. Thus, with a compression molded EVA foam midsole, they feel good on your feet.
The Whisper sandals have got Keen's metatomical design to work your foot's natural arch.
 Finally, the most important factors in choosing the best walking sandals or sandals for traveling is to choose what feels right for you. You are the only one whom can judge what is right for your feet. Before deciding on what works for you, you should try several different varieties of walking sandals. After reading guidelines above, you can make sure to make an informed decision of what walking or sports sandal will work best for you. Also, this helps you ensure the purchase of a quality piece of footwear that will last many outdoor excursions.