gg Australia is a famous brand of shoes evolving from boots or slippers to luxury footwear. UGG offers between classic UGG comfort and elegant sandals. If you plan to purchase a basic sandal or comfort sandals, UGG sandals is a perfect choice. The material of Ugg shoes utilizes various premium materials from plush sheepskin to burnish, washed canvas, oil suede and tumbled distressed leather. This makes Ugg footwear luxuriously irresistible. Moreover, you can see the below reviews to find out which pair was the most comfortable and which pair suits your next plan.
1. Ugg Australia Janie Clog
With bone, tan or black design, this studded clog is completely comfortable. Unlike other clog sandals, its footbed is cushy and soft. Also, the footbed is supportive when you wear it for a long period of time. Thanks to a slight platform, it feels almost like a flat shoe. However, the front leather part is a bit tight. And, the strap around the ankle is a bit tight. This may make your ankle swollen after all daywear. You can pair these clogs with dress, denim skirts, boyfriend jeans or flares of any length (even cropped).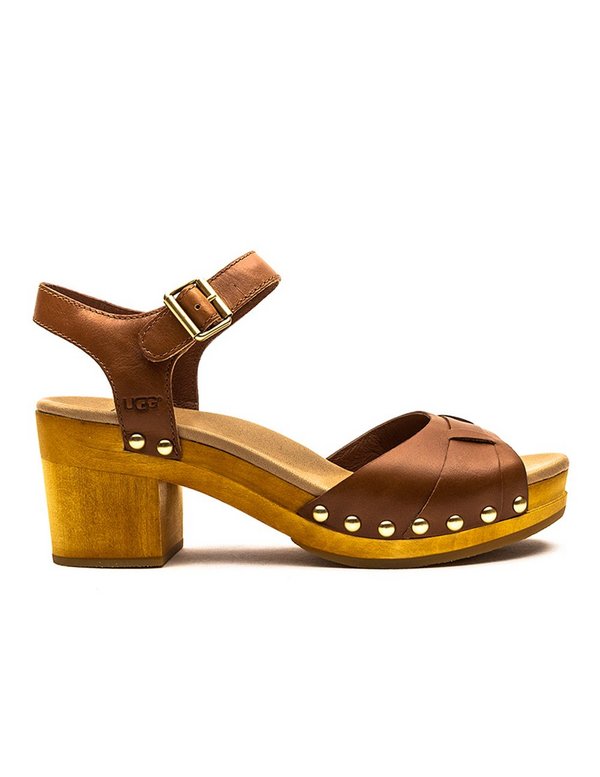 2. Ugg Australia Starla Espadrille Wedge
You can believe that this shoe is shocking comfortable. You have no worry about putting it on because the ties stay tied. And, you can walk around for hours in this shoe. Also, one of its comfort features is cork insole lining. For a customized fit, it is equipped with self-tied ribbon ankle strap. The available colors are black, navy, bone, and orange. If you love this shoe but it was a higher heel, you can try Ugg Australia's Jules Platform Wedge – this shoe is made from the same fabric as the Starla Espadrille. You can add a flirty look to your sundress in these espadrille wedges.
3. Ugg Australia Jolina Open Toe Wedge
A ropey braided wedge lifts a trend-right open-toe shaped from buttery-soft nubuck leather and fashioned with sultry cutout sides. The platform of the wedges makes them a very comfortable pair of heels. Besides, this keeps the actual angle of your foot to a minimum. Furthermore, they give your major height. These wedges are perfect when you wear them with a t-shirt and blazer. It is great for a night out.

4. Ugg Australia Brylee Sandal
The brown version is fine. However, if you want something more interesting, you can find the sandals in black, silver, and black. Which one to choose for your next date? Without regard to color, the sandal is completely comfortable. You may love its minimalist design. Its design is like the Weitzman Nudest, but flat. For its form, there is a piece of leather that fits between your toes. This helps keep your foot anchored properly in the shoe, rather than sliding around. You can set out a relaxing day with total comfort in the UGG Brylee sandals.
5. Ugg Australia MaryAnne Wedge Sandal
This wedge is available in black and tan. Both of them are amazing. However, getting it fastened is nearly impossible. You have to thread a piece of leather through multiple hoops. On you first try, you can meet a problem that the leather could not quite fit and started peeling. This may make you annoyed. On the other hand, it is a great choice when you look for a strappy wedge with major height. Moreover, its foam insole is added arch support. For absorbing moisture, it is designed with jute-upper and full-grain leather. With soft leather, this helps avoid cutting into your skin or even leaving blisters. Its padded sole will support you with walking easily and stand in. As an eye-catch wedge sandal, you can choose it for long summer days.
UGG sandals with unique designs and authentic material will offer you super comfort. There are various brands, but if you want to find the basic sandals yet chic, UGG sandals will give you all. However, you should consider seriously the important factor before deciding to purchase any sandals. They may be suitable for other person and other situation, but it does not mean it works with you as well. Therefore, with the above guide and reviews, you can know how to choose UGG sandals and which one suits to your goal.